Full Flake is also known as faux granite. The flake medium is broadcast into epoxy. The flakes or "chips"  come in an assortment of sizes 1/16, 1/8 and 1/4 are most popular.

Design Tool for Custom Colors
Product Data
MSDS
Liquid Granite or "Flake" Floor is also available in shimmering "Mica" chips.
Flake flooring still uses epoxy but with this option a broadcast medium is used to create depth, color and texture to give you a thicker more decorative appearance. These "flakes" come in dozens of traditional colors but they also come in neon, glow in the dark and shimmer (known as "Mica")
The application process includes a primer coat of epoxy, then 1-2 broadcast coats of flake, mica or quartz and then a top coat of either epoxy or urethane. You can choose your colors from the chart below or visit our flake provider and create your own custom color.
This floor coating option has a slight texture to it and provides slip resistance while still enabling the user to clean the floors with ease.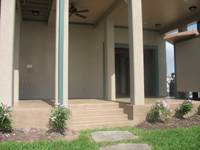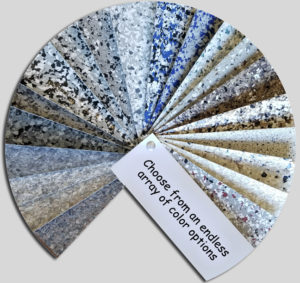 Standard Blends: